Product Description & Offer:
Your well being is our priority. Big Bazaar has initiated Doorstep Delivery services in Mumbai, Delhi, Rajasthan and Many More. Call Them and get your daily needs delivered at your doorstep.
Free Home Delivery on Minimum Purchase of Rs. 1500.
Delivery Charge Rs.100 on below purchase of Rs.1500.
How to get Home Delivery:
Call the nearest store and place your order
Delivery at your doorstep.
Pay at home.
Delhi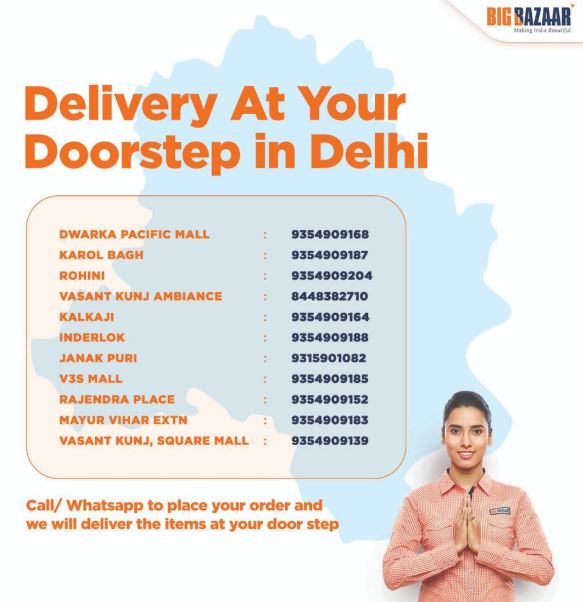 Noida and Ghaziabad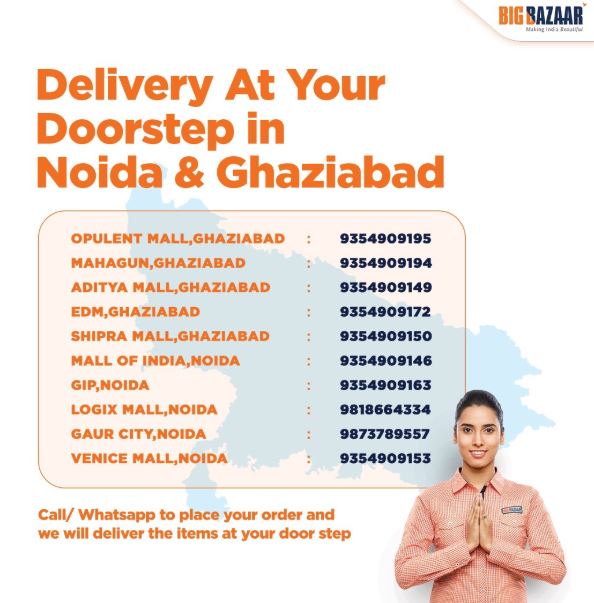 Mumbai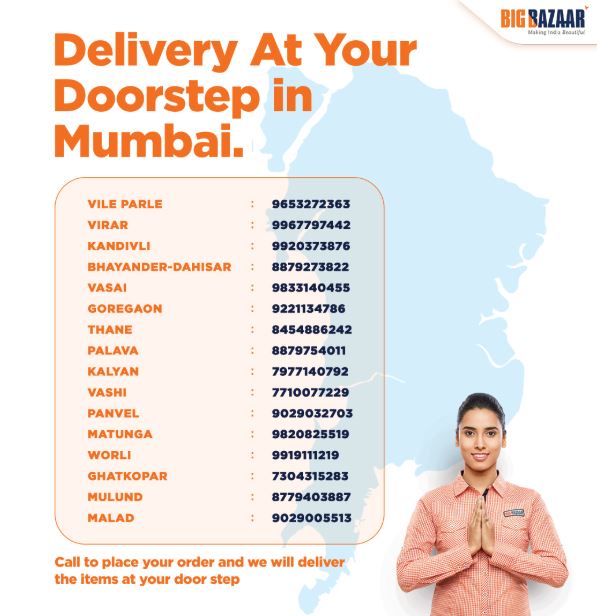 Madhya Pradesh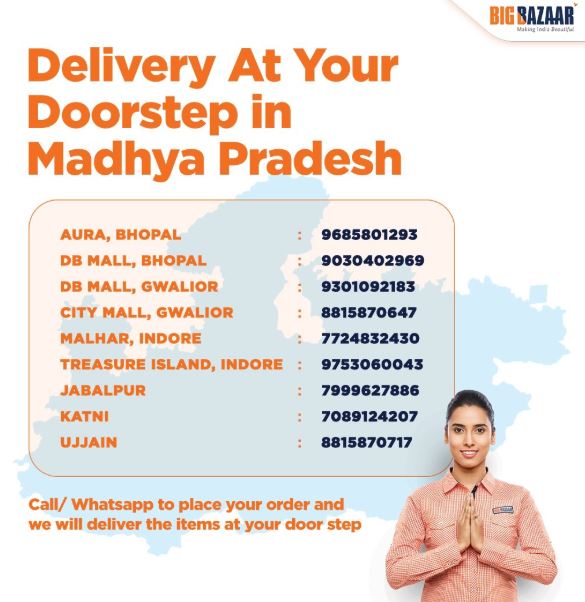 Jammu & H.P.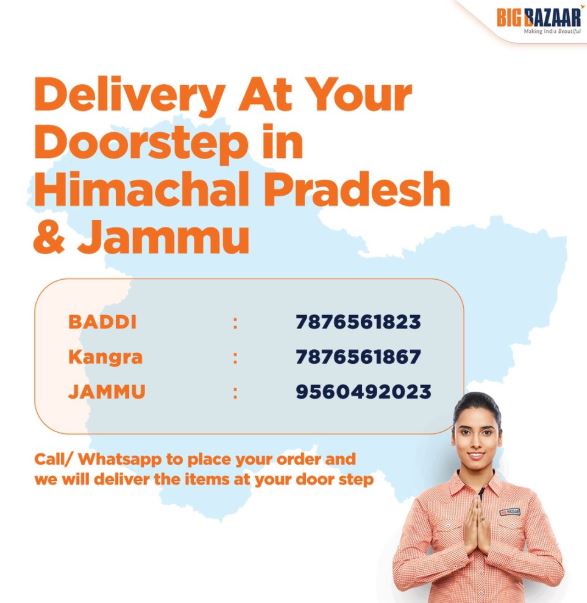 Uttrakhand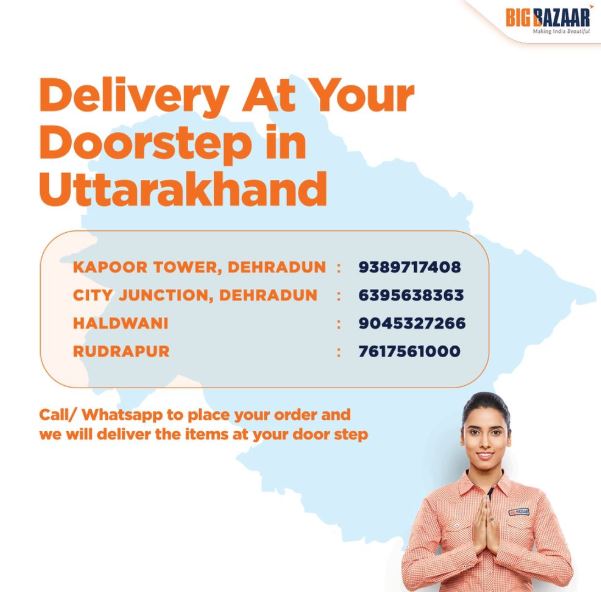 Uttar Pradesh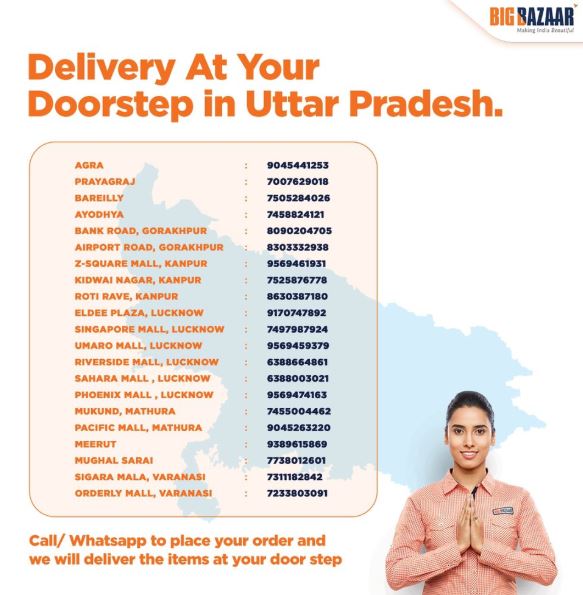 Punjab & Haryana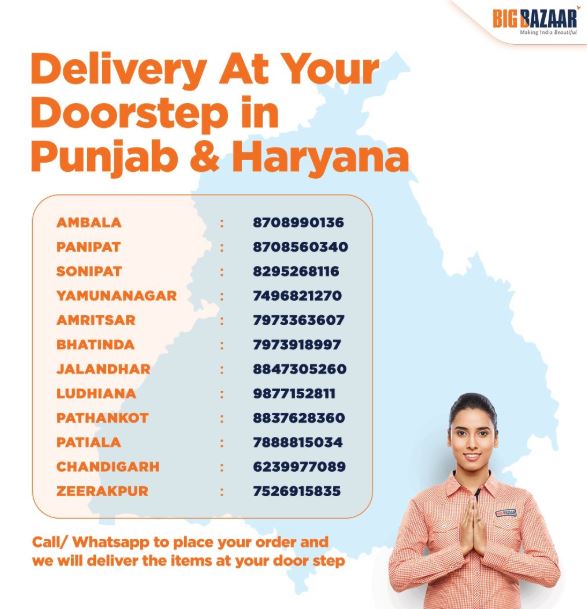 Maharashtra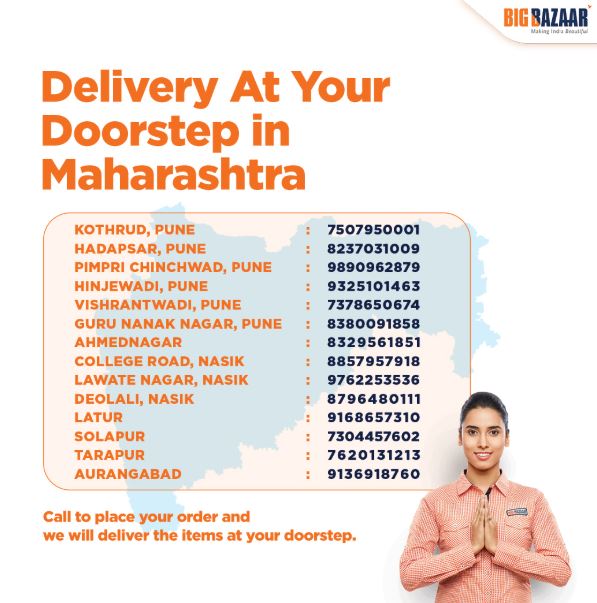 Rajasthan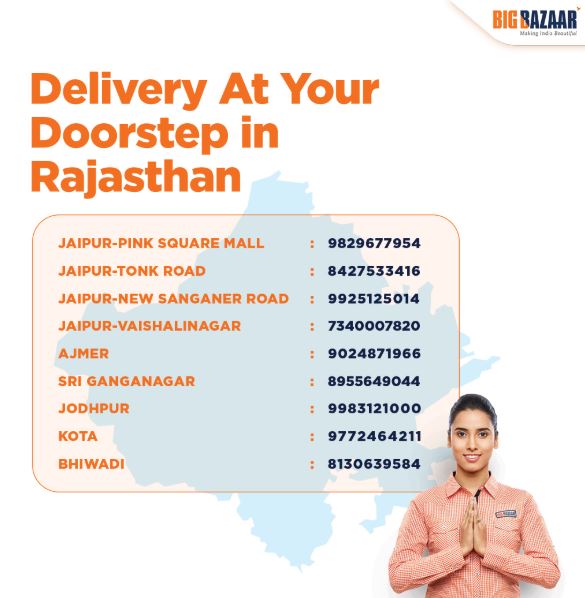 Gujarat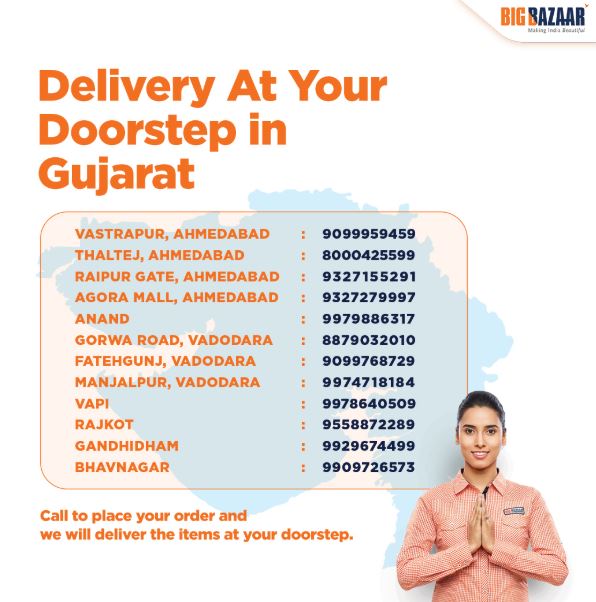 Ranchi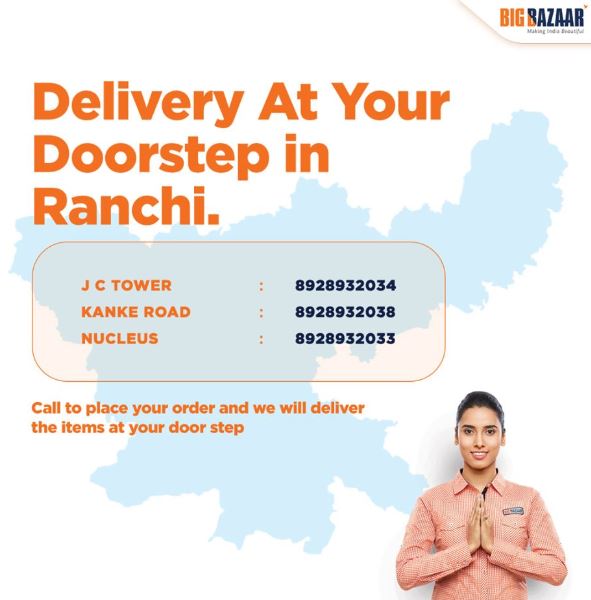 Patna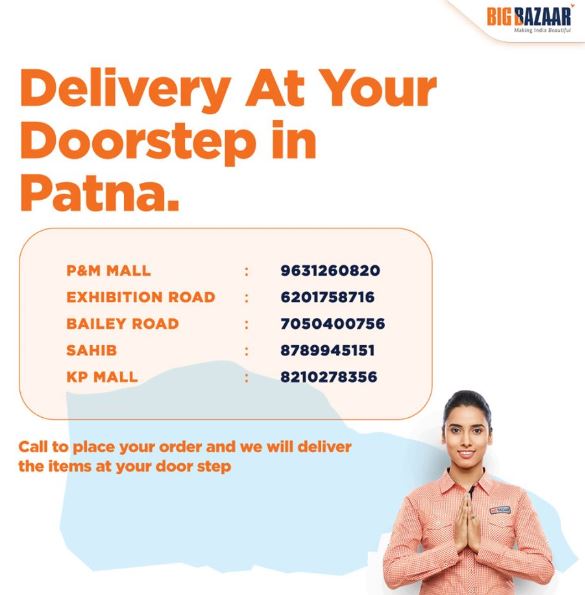 Nagpur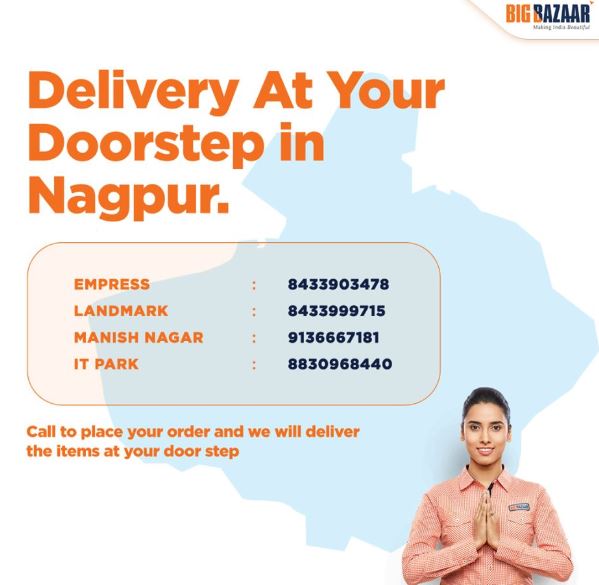 Guwahati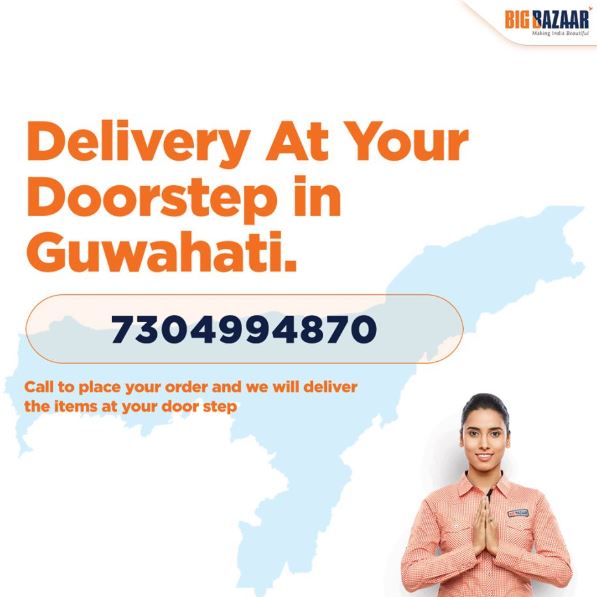 Only food and essentials section of the store is operational.
Delivery charges applicable* Last updated on 1st Apr 11:45 AM
| City | Store Name | Store Status | Store Start Time | Store Closing Time |
| --- | --- | --- | --- | --- |
| City | Store Name | Store Status | Store Start Time | Store Closing Time |
| AGARTALA | BB-AGARTALA-RUPESHI CINEMA | Open | 10:30 AM | 9:30 PM |
| AGRA | BB-AGRA-SANJAY PLACE-ED | Closed | N/A | N/A |
| AHMEDABAD | BB-AHMEDABAD-AGORA MALL | Closed | N/A | N/A |
| AHMEDABAD | BB-AHMEDABAD-ACROPOLIC MALL | Closed | N/A | N/A |
| AHMEDABAD | BB-AHMEDABAD-KANKARIA | Closed | N/A | N/A |
| AHMEDABAD | BB-AHMEDABAD-ALPHA ONE | Closed | N/A | N/A |
| AHMEDNAGAR | BB-AHMEDNAGAR-MANMAD HIGHWAY | Open | 11:00 AM | 8:00 PM |
| AJMER | BB-AJMER-OASIS MALL | Open | 11:00 AM | 8:00 PM |
| ALLAHABAD | BB-ALLAHABAD-CIVIL LINE | Closed | N/A | N/A |
| AMBALA | BB-AMBALA-RAI MARKET-MINERVA C | Closed | N/A | N/A |
| AMRITSAR | BB-AMRITSAR-TRILIUM MALL | Closed | N/A | N/A |
| ANAND | BB-GUJARAT-ANAND-VIDYANAGAR RO | Closed | N/A | N/A |
| ASANSOL | BB-ASANSOL-SENTRUM MALL | Open | 11:00 AM | 5:00 PM |
| ASANSOL | BB-ASANSOL-GALAXY MALL-BURNPUR ROAD | Open | 11:00 AM | 5:00 PM |
| AURANGABAD | BB-AURANGABAD-PROZONE MALL | Open | 11:00 AM | 8:00 PM |
| BADDI | BB-BADDI-HOMELAND CITY MALL | Closed | N/A | N/A |
| BAREILLY | BB-BAREILLY-PHEONIX MARKET CITY | Closed | N/A | N/A |
| BELGAUM | BB-BELGAUM-TILAK WADI | Open | 9:00 AM | 5:00 PM |
| BENGALURU | BB-BENGALURU-G T WORLD MALL | Closed | N/A | N/A |
| BENGALURU | BB-BENGALURU-WHITEFIELD ROAD-MARKET CITY | Closed | N/A | N/A |
| BENGALURU | BB-BENGALURU-ROYAL MEENAKSHI M | Closed | N/A | N/A |
| BENGALURU | BB-BENGALURU-INORBIT MALL | Closed | N/A | N/A |
| BENGALURU | FB-BENGALURU-SOUL SPACE SPIRIT (CENTRAL) | Closed | N/A | N/A |
| BENGALURU | BB-BENGALURU-LEDO MALL | Closed | N/A | N/A |
| BENGALURU | BB-BENGALURU-VB COLONY-ED | Open | 9:00 AM | 5:00 PM |
| BENGALURU | BB-BANGALURU-JPNAGAR 7TH PHASE | Open | 9:00 AM | 5:00 PM |
| BENGALURU | BB-BANGALURU-KORAMANGALA | Open | 9:00 AM | 5:00 PM |
| BENGALURU | BB-BANGALURU-BANSHANKARI-KATHR | Open | 9:00 AM | 5:00 PM |
| BENGALURU | BB-BANGALURU-HEBBAL-MARUTHI AR | Open | 9:00 AM | 5:00 PM |
| BENGALURU | BB-BANGALURU-GATEWAY JAYANAGAR | Open | 9:00 AM | 5:00 PM |
| BENGALURU | BB-BENGALURU-MALLESHWARAM | Open | 9:00 AM | 5:00 PM |
| BENGALURU | BB-BENGALURU-RAJAJI NAGAR | Open | 9:00 AM | 5:00 PM |
| BENGALURU | BB-BENGALURU-KUNDALAHALLI GATE | Open | 9:00 AM | 5:00 PM |
| BHARUCH | BB-BHARUCH-SHALIMAR TALKIES | Closed | N/A | N/A |
| BHATINDA | BB-BHATINDA-MITTAL MALL | Closed | N/A | N/A |
| BHAVNAGAR | BB-BHAVNAGAR-SHIVA BLESSINGS 2 | Closed | N/A | N/A |
| BHILAI | BB-BHILAI-SURYA TREASURE ISLAND | Open | 9:00 AM | 3:00 PM |
| BHIWADI | BB-BHIWADI-ALWAR ROAD-ED | Open | 7:00 AM | 9:00 AM |
| BHOPAL | BB-BHOPAL-D B MALL | Closed | N/A | N/A |
| BHOPAL | BB-BHOPAL-AURA MALL-GULMOHAR | yes | 12:00 PM | 7:00 PM |
| BHUBANESHWAR | BB-BHUBANESHWAR-ESPLANADE MALL | Closed | N/A | N/A |
| BHUBANESHWAR | BB-BHUBANESHWAR-DN REGALIA | Open | 11:00 AM | 5:00 PM |
| BHUBANESHWAR | BB-BHUBANESHWAR-KRISHNA PLAZA | Open | 11:00 AM | 5:00 PM |
| BHUBANESHWAR | BB-BHUBANESWAR-FORUM | Open | 11:00 AM | 5:00 PM |
| BHUBANESHWAR | BB-BHUBANESWAR-PATIA-MARUTI MA | Open | 11:00 AM | 5:00 PM |
| BHUBANESHWAR | BB-BHUBANESWAR-SYMPHONY MALL | Open | 11:00 AM | 5:00 PM |
| BIDAR | BB-BIDAR-BVB COLLEGE | Open | 9:00 AM | 5:00 PM |
| BIHAR SHARIF | BB-BIHARSHARIF-NAGESHWAR MALL | Closed | N/A | N/A |
| BILASPUR | BB-BILASPUR-MAGARPARA LINK ROAD | Closed | N/A | N/A |
| BILASPUR | BB-BILASPUR-MAGNETO-ED | Open | 11:00 AM | 5:00 PM |
| BOKARO | BB-BOKARO-CENTRAL AVENUE-STEEL CITY | Open | 11:00 AM | 5:00 PM |
| BURDWAN | BB-BRADHAMAN-JELKHANA MORE | Open | 11:00 AM | 5:00 PM |
| CALICUT | BB-CALICUT-PVH CITY PARK | Open | 10:00 AM | 5:00 PM |
| CHANDIGARH | BB-CHANDIGARH-ELANTE MALL-INDUSTRL AREA | Closed | N/A | N/A |
| CHANDRAPUR | BB-CHANDRAPUR-MDR MALL | Open | 11:00 AM | 5:00 PM |
| CHENNAI | BB-CHENNAI-AMPA SKYWALK | Closed | N/A | N/A |
| CHENNAI | BB-CHENNAI-PHOENIX MARKET CITY-VELACHERY | Closed | N/A | N/A |
| CHENNAI | BB-CHENNAI-VIVIRA MALL | Closed | N/A | N/A |
| CHENNAI | BB-CHENNAI-ANAND RAM DEVELOPER | Closed | N/A | N/A |
| CHENNAI | BB-CHENNAI-EXPRESS MALL | Closed | N/A | N/A |
| CHENNAI | BB-CHENNAI-PONDY BAZAAR-THYAGA | Open | 10:00 AM | 2:00 PM |
| COCHIN | BB-KOCHI-CENTRE SQUARE-M G ROAD | Closed | N/A | N/A |
| COCHIN | BB-COCHIN-ABAD NUCLEUS MALL | Open | 10:00 AM | 5:00 PM |
| COIMBATORE | BB-COIMBATORE-UNITEA MALL | Closed | N/A | N/A |
| COOCH BEHAR | BB-COOCH BEHAR-CITY MALL | Closed | N/A | N/A |
| CUTTACK | BB-CUTTACK-NETAJI SUBHASH CHAN | Open | 11:00 AM | 5:00 PM |
| DARBHANGA | BB-DARBHANGA-JHA COMPLEX | Open | 11:00 AM | 5:00 PM |
| DARJEELING | BB-DARJEELING-RINK MALL | Open | 11:00 AM | 5:00 PM |
| DAVANGERE | BB-DAVANGERE-NSK COMPLEX | Open | 9:00 AM | 5:00 PM |
| DEHRADUN | BB-DEHRADUN-KAPOOR TOWER | Closed | N/A | N/A |
| DEHRADUN | BB-DEHRADUN-CITY JUNCTION MALL | Closed | N/A | N/A |
| DELHI | FB-NEW DELHI-RAJENDRA PLACE MTRO STATION | yes | 12:00 PM | 8:00 PM |
| DELHI | BB-DELHI-MAYUR VIHAR-METRO STATION | yes | 12:00 PM | 8:00 PM |
| DEOGHAR | BB- DEOGHAR- SUBHASH ROAD | Open | 9:00 AM | 1:00 AM |
| DHANBAD | BB-DHANBAD-SRIRAM MALL | Open | 11:00 AM | 5:00 PM |
| DIBRUGARH | BB-DIBRUGARTH-A.T.ROAD | Open | 11:00 AM | 9:00 PM |
| DIMAPUR | BB-DIMAPUR-NAGI HOUSE | Closed | N/A | N/A |
| DURGAPUR | BB-DURGAPUR-CITY CENTRE | Open | 11:00 AM | 5:00 PM |
| FAIZABAD | BB-FAIZABAD-DEVKALI ROAD | yes | 11:00 AM | 8:30 PM |
| FARIDABAD | BB-FARIDABAD-GRAND MALL | Closed | N/A | N/A |
| GANDHIDHAM | BB-GANDIDHAM-ADITYA MALL CINEM | Closed | N/A | N/A |
| GANGTOK | BB-GANGTOK-NAMNANG COMMERCIAL C0MPLEX | Open | 11:00 AM | 5:00 PM |
| GAYA | BB-GAYA-KAZMI OASIS | Closed | N/A | N/A |
| GHAZIABAD | BB-GHAZIABAD-EDM-KAUSHAMBI | Closed | N/A | N/A |
| GHAZIABAD | FB-GHAZIABAD-SHIPRA MALL | Closed | N/A | N/A |
| GHAZIABAD | BB-GHAZIABAD-OPULENT MALL-ED | yes | 12:00 PM | 8:00 PM |
| GHAZIABAD | BB-GHAZIABAD-MAHAGUN MALL-ED | yes | 12:00 PM | 8:00 PM |
| GHAZIABAD | BB-GHAZIABAD-ADITYA MALL | yes | 12:00 PM | 8:00 PM |
| GOA | BB-GOA-MALL DE GOA | Closed | N/A | N/A |
| GORAKHPUR | BB-GORAKHPUR-BANK ROAD | Closed | N/A | N/A |
| GORAKHPUR | BB-GORAKHPUR-AIRPORT ROAD | Closed | N/A | N/A |
| GREATER NOIDA | BB-NOIDA-GRAND VENICE | yes | 12:00 PM | 8:00 PM |
| GREATER NOIDA | BB-NOIDA-GAUR CITY | yes | 12:00 PM | 8:00 PM |
| GULBARGA | BB-GULBARGA-TIRANDAZ TALKIES | Open | 9:00 AM | 5:00 PM |
| GUNTUR | BB-GUNTUR-SIVA CITY CENTER | Open | 6:00 AM | 11:00 AM |
| GURGAON | BB-GURGAON-AMBI MALL | Closed | N/A | N/A |
| GURGAON | BB-GURGAON-OMAXE SOHNA ROAD-ED | yes | 11:00 AM | 8:30 PM |
| GURGAON | BB-GURGAON-SAHARA MALL | yes | 11:00 AM | 8:30 PM |
| GUWAHATI | BB-GUWAHATI-CITY SQUARE | Open | 10:00 AM | 9:00 PM |
| GWALIOR | BB-GWALIOR-D B CITY MALL | yes | 8:00 AM | 12:00 PM |
| GWALIOR | BB-GWALIOR-MLB ROAD-DINDAYAL C | yes | 8:00 AM | 12:00 PM |
| HAJIPUR | BB-HAJIPUR-GAURI COMPLEX | Closed | N/A | N/A |
| HALDIA | BB-HALDIA-CITY CENTER | Open | 11:00 AM | 5:00 PM |
| HALDWANI | BB-HALDWANI-DURGA CITY CENTER | yes | 7:00 AM | 1:00 PM |
| HASSAN | BB-HASSAN-VENKATADRI TOWER | Open | 7:00 AM | 12:00 PM |
| HOSUR | BB-HOSUR-H V ARCADE | Open | 9:00 AM | 12:00 PM |
| HUBLI | BB-HUBLI-GOKUL ROAD-AKSHAY CEN | Open | 9:00 AM | 5:00 PM |
| HYDERABAD | BB-HYDERABAD-SAIDABAD-ARIHANT TOWER | Open | 10:00 AM | 5:00 PM |
| HYDERABAD | BB-HYDERABAD-AMIRIKUKKATPALLI VILLAGE | Open | 10:00 AM | 5:00 PM |
| HYDERABAD | BB-HYDERABAD-PUNJAGUTTA-HPERCI | Open | 10:00 AM | 5:00 PM |
| HYDERABAD | BB-KOMAPALLY | Open | 10:00 AM | 5:00 PM |
| HYDERABAD | BB-HYDERABAD-UPPAL-SPRAK HOSPITAL | Open | 10:00 AM | 5:00 PM |
| HYDERABAD | BB-HYDERABAD-TARNAKA | Open | 10:00 AM | 5:00 PM |
| HYDERABAD | BB-HYDERABAD-ABIDS-MAHESHWARI | Open | 10:00 AM | 5:00 PM |
| HYDERABAD | BB-HYDERABAD-AMEERPET | Open | 10:00 AM | 5:00 PM |
| HYDERABAD | BB-HYDERABAD-MAHESHWARI | Open | 10:00 AM | 5:00 PM |
| HYDERABAD | BB-HYDERABAD-MADHAPUR | Open | 11:00 AM | 5:00 PM |
| INDORE | BB-INDORE-MALHAR MEGA MALL | Closed | N/A | N/A |
| INDORE | BB-INDORE-TREASURE ISLAND | Closed | N/A | N/A |
| JABALPUR | BB-JABALPUR-NARMADA ROAD | Closed | N/A | N/A |
| JAIPUR | BB-JAIPUR-VAISHALI NAGAR-VAISHALI CIRCLE | Open | 11:00 AM | 6:00 PM |
| JAIPUR | BB-JAIPUR-TRINITI MALL-SANGANER ROAD | Open | 11:00 AM | 7:00 PM |
| JAIPUR | BB-JAIPUR-PINK SQUARE MALL | Open | 11:00 AM | 7:00 PM |
| JAIPUR | BB-JAIPUR-CITY SQUARE MALL-TON | Open | 11:00 AM | 7:00 PM |
| JAJPUR | BB-JAJPUR-UTKAL CENTER POINT | Open | 6:00 AM | 11:00 AM |
| JALANDHAR | BB-JALANDHAR-VASAL MALL-ED | Closed | N/A | N/A |
| JALPAIGURI | BB-JALPAIGURI-PRM MARKET CITY | Open | 11:00 AM | 5:00 PM |
| JAMMU | BB-JAMMU-CITY SQUAR MALL-CHANDNAGAR | Closed | N/A | N/A |
| JAMSHEDPUR | BB-JAMSHEDPUR-P & M MALL | Open | 11:00 AM | 5:00 PM |
| JAMSHEDPUR | BB-JAMSHEDPUR-NH-33 | Open | 11:00 AM | 5:00 PM |
| JHARSUGUDA | BB-JHARSUGUDA-SHANTI CITY CENTER | Open | 6:00 AM | 11:00 AM |
| JODHPUR | BB-JODHPUR-OLD OLYMPIC CINEMA | Closed | N/A | N/A |
| JORHAT | BB-JORHAT-MOUZA-NAGARMHAL-PATTA NO 99 | Open | 10:00 AM | 9:00 PM |
| KANGRA | BB-KANGARA-MAHESH RAJ TOWERS | yes | 8:00 AM | 11:00 AM |
| KANPUR | BB-KANPUR-Z SQUARE MALL-M G ROAD | Closed | N/A | N/A |
| KANPUR | BB-KANPUR-KIDWAI NAGAR | Closed | N/A | N/A |
| KANPUR | BB-KANPUR-ANCHOR STORE | Closed | N/A | N/A |
| KASARGOD | BB-KERALA-KASARGOD | Open | 10:00 AM | 5:00 PM |
| KATNI | BB-KATNI-CITY MALL-BARHI ROAD | yes | 9:00 AM | 3:00 PM |
| KEONJHAR | BB- KEONJHAR- KTM MALL | Open | 11:00 AM | 5:00 PM |
| KHARAGPUR | BB-KHARAGPUR-PUJA COMPLEX | Open | 11:00 AM | 5:00 PM |
| KODERMA | BB-KODERMA-UJALA COMPLEX | Open | 11:00 AM | 5:00 PM |
| KOLKATA | BB-HOWRAH-AVANI RIVERSIDE MALL | Closed | N/A | N/A |
| KOLKATA | BB-KOLKATA-DCN MALL-JESSORE ROAD | Closed | N/A | N/A |
| KOLKATA | BB-KOLKATA-WOOD SQUARE MALL-PARGANAS | Closed | N/A | N/A |
| KOLKATA | BB-KOLKATA-LILUHA | Closed | N/A | N/A |
| KOLKATA | BB-KOLKATA-SHREEBHUMI | Open | 11:00 AM | 5:00 PM |
| KOLKATA | BB-KOLKATA-SHREERAMPUR | Open | 11:00 AM | 5:00 PM |
| KOLKATA | BB-BARASAT-SUN CITY MALL | Closed | N/A | N/A |
| KOLKATA | BB-KOLKATA-P S AVIATOR | Open | 11:00 AM | 5:00 PM |
| KOLKATA | BB-KOLKATA-RABINDRA SARANI | Open | 11:00 AM | 5:00 PM |
| KOLKATA | BB-KOLKATA-V.I.P. ROAD | Open | 11:00 AM | 5:00 PM |
| KOLKATA | BB-KOLKATA-HILAND PARK-THE MET | Open | 11:00 AM | 5:00 PM |
| KOLKATA | BB-KOLKATA-JADAVPUR-ORBIT MALL | Open | 11:00 AM | 5:00 PM |
| KOLKATA | BB-KOLKATA-LIC BLDG-J.L NEHRU | Open | 11:00 AM | 5:00 PM |
| KOLKATA | BB-KOLKATA-BIRATI | Open | 11:00 AM | 5:00 PM |
| KOLKATA | BB-KOLKATA-SALT LAKE | Open | 11:00 AM | 5:00 PM |
| KOLKATA | BB-KOLKATA-RASHBEHARI AVENUE | Open | 11:00 AM | 5:00 PM |
| KOLKATA | BB-KOLKATA-SEALDAH | Open | 11:00 AM | 5:00 PM |
| KORBA | BB-KORBA-PLAM MALL | Open | 10:00 AM | 9:30 PM |
| KOTA | BB-KOTA-JHALAWAR RAOD | Open | 11:00 AM | 5:00 PM |
| KOTTAYAM | BB-KOTTAYAM-T B ROAD | Open | 10:00 AM | 5:00 PM |
| KRISHNANAGAR | BB-KRISHNAGAR-SENTRUM | Open | 11:00 AM | 5:00 PM |
| KURNOOL | BB-KURNOOL-NANDYAL ROAD | Closed | N/A | N/A |
| LATUR | BB-LATUR-BABASAHEB PARANJAPE MARG | Open | 11:00 AM | 8:00 PM |
| LUCKNOW | BB-LUCKNOW-SHALIMAR ELDEE PLAZA | Closed | N/A | N/A |
| LUCKNOW | BB-LUCKNOW-SINGAPORE MALL | Closed | N/A | N/A |
| LUCKNOW | BB-LUCKNOW-RIVERSIDE MALL | Closed | N/A | N/A |
| LUCKNOW | BB-LUCKNOW-SAHARA MALL | Closed | N/A | N/A |
| LUCKNOW | BB-LUCKNOW-PHEONIX MALL | Closed | N/A | N/A |
| LUCKNOW | BB-LUCKNOW-UMRAO MALL | Closed | N/A | N/A |
| LUDHIANA | BB-LUDHIANA-FEROZEPUR-ED | Closed | N/A | N/A |
| MADURAI | BB-MADURAI-KALAVASAL BYPASS ROAD | Closed | N/A | N/A |
| MANDYA | BB-MANDYA-MANDYA MEDICAL COLLAGE | Open | 9:00 AM | 5:00 PM |
| MANGALORE | BB-MANGALORE-N G ROAD-ED | Open | 7:00 AM | 12:00 PM |
| MANGALORE | BB-MANGALORE-BEJAI KAVOOR ROAD | Open | 7:00 AM | 12:00 PM |
| MATHURA | BB-MATHURA-MUKUND KRISHNA GARD | Closed | N/A | N/A |
| MATHURA | BB-MATHURA-AGRA ROAD-PACIFIC MALL | yes | 7:00 AM | 11:00 AM |
| MEERUT | BB-MEERUT-SHOPPRIX MALL | Closed | N/A | N/A |
| MUGHALSARAI | BB-MUGHAL SARAI-IP MUGHAL MALL | Closed | N/A | N/A |
| MUMBAI | FB-MUMBAI-K STAR MALL | Closed | N/A | N/A |
| MUMBAI | BB-MUMBAI-VILE PARLE-MONGIBAI ROAD | Open | 10:00 AM | 6:00 PM |
| MUMBAI | BB-VIRAR-YASHWANT BUILDING | Open | 10:00 AM | 6:00 PM |
| MUMBAI | BB-DOMBIVILI-LODHA EXPERIA MALL | Open | 10:00 AM | 6:00 PM |
| MUMBAI | BB-MUMBAI-MALAD-INFINITY MALL | Open | 10:00 AM | 6:00 PM |
| MUMBAI | BB-THANE-DAHISAR-THAKUR MALL | Open | 10:00 AM | 6:00 PM |
| MUMBAI | BB-MUMBAI-ATRIA MALL | Open | 10:00 AM | 6:00 PM |
| MUMBAI | BB-MUMBAI-GHATKOPAR | Open | 10:00 AM | 6:00 PM |
| MUMBAI | BB-MUMBAI-MULUND-RUNWAL ARCADE | Open | 10:00 AM | 6:00 PM |
| MUMBAI | BB-MUMBAI-KANDIVLI-GROWEL 101 | Open | 10:00 AM | 6:00 PM |
| MUMBAI | BB-NAVI MUMBAI-VASHI-RAGHULEEL | Open | 10:00 AM | 6:00 PM |
| MUMBAI | FB-MUMBAI-GOREGAON-THE HUB | Open | 10:00 AM | 6:00 PM |
| MUMBAI | FB-MUMBAI-ANDHERI-LOKHANDWALA | Open | 10:00 AM | 6:00 PM |
| MUMBAI | HYPERCITY-MUMBAI-Malad | Open | 10:00 AM | 6:00 PM |
| MUMBAI | BB-MUMBAI-MATUNGA-ERA HOUSE | Open | 10:00 AM | 6:00 PM |
| MUZAFFARPUR | BB-MUZAFFARPUR-GIRJANANDAN COM | Open | 11:00 AM | 5:00 PM |
| MYSORE | BB-MYSORE-GOKULAM ROAD-ED | Open | 9:00 AM | 5:00 PM |
| MYSORE | BB-MYSORE-CHAMARAJPURAM | Open | 9:00 AM | 5:00 PM |
| NAGPUR | BB-NAGPUR-EMPRESS CITY | Closed | N/A | N/A |
| NAGPUR | BB-NAGPUR-VIPL IT PARK | Open | 11:00 AM | 5:00 PM |
| NAGPUR | BB-NAGPUR-MANISH NAGAR | Open | 11:00 AM | 5:00 PM |
| NAGPUR | BB-NAGPUR-LAND MARK | Open | 11:00 AM | 5:00 PM |
| NASHIK | BB-NASIK-DEOLALI-URBAN SPACE | Open | 11:00 AM | 6:00 PM |
| NASHIK | BB-NASIK-LAWATE NAGAR | Open | 11:00 AM | 6:00 PM |
| NASHIK | BB-NASIK-THE ZONE | Closed | N/A | N/A |
| NAVI MUMBAI | BB-NAVI MUMBAI-SEAWOODS | Open | 10:00 AM | 6:00 PM |
| NAVI MUMBAI | HYPERCITY-NAVI MUMBAI-INORBIT MALLS | Open | 10:00 AM | 6:00 PM |
| NAVI MUMBAI | BB-NAVI MUMBAI-PANVEL-ORION MA | Open | 10:00 AM | 6:00 PM |
| NELLORE | BB-NELLORE-GB FELICITY MALL | Open | 6:00 AM | 11:00 AM |
| NEW DELHI | BB-NEW DELHI-V3S MALL | Closed | N/A | N/A |
| NEW DELHI | BB-NEW DELHI-ORCHARD ROAD MALL | Closed | N/A | N/A |
| NEW DELHI | BB-NEW DELHI-PACIFIC MALL | Closed | N/A | N/A |
| NEW DELHI | BB-NEW DELHI-ROHTAK ROAD-KAROL | yes | 11:00 AM | 8:30 PM |
| NEW DELHI | BB-NEW DELHI-TWIN DISTRICT CENTRE | yes | 11:00 AM | 8:30 PM |
| NEW DELHI | BB-NEW DELHI-VASANT KUNJ-AMBIANCE MALL | yes | 11:00 AM | 8:30 PM |
| New Delhi | BB-NEW DELHI-KALKA-JI | yes | 11:00 AM | 8:30 PM |
| NEW DELHI | BB-NEW DELHI-INDERLOK-PARSVNAT | yes | 11:00 AM | 8:30 PM |
| NEW DELHI | BB-NEW DELHI-VASANT KUNJ-VASAN | yes | 11:00 AM | 8:30 PM |
| NOIDA | BB-NOIDA-MALL OF INDIA | yes | 12:00 PM | 8:30 PM |
| NOIDA | BB-NOIDA-GREAT INDIA PLACE | yes | 12:00 PM | 8:00 PM |
| NOIDA | BB-NOIDA-LOGIX CITY CENTER | yes | 12:00 PM | 8:00 PM |
| PALAKKAD | BB-PALAKKAD- CITY CENTRE | Open | 10:00 AM | 5:00 PM |
| PANIPAT | BB-PANIPAT-MITTAL'S MEGA MALL | Closed | N/A | N/A |
| PATHANKOT | BB-PATHANKOT-NOVELTY MALL | Closed | N/A | N/A |
| PATIALA | BB-PATIALA-OMAXE MALL-ED | Closed | N/A | N/A |
| PATNA | BB-PATNA-P MALL-EXHIBITION ROAD | Open | 11:00 AM | 5:00 PM |
| PATNA | BB-PATNA-BAILEY ROAD-KHAJEPURA | Open | 11:00 AM | 5:00 PM |
| PATNA | BB-PATNA-PNM MALL-LOYALA SCHOOL | Open | 11:00 AM | 5:00 PM |
| PATNA | BB-PATNA-SAHIB STATION-MFC COM | Open | 11:00 AM | 5:00 PM |
| PATNA | BB-PATNA-K P MALL | Open | 11:00 AM | 5:00 PM |
| PUDUCHERRY | BB-PONDICHERY- PROVIDENCE MALL | Closed | N/A | N/A |
| PUNE | BB-PUNE-XION MALL-HINJEWADI | Open | 11:00 AM | 8:00 PM |
| PUNE | BB-PUNE-KUMAR PACIFIC MALL | Open | 11:00 AM | 8:00 PM |
| PUNE | BB-PUNE-PIMPRI-PREMIER PLAZA | Open | 11:00 AM | 8:00 PM |
| PUNE | BB-PUNE-KOTHRUD-CITY PRIDE MUL | Open | 11:00 AM | 8:00 PM |
| PUNE | BB-PUNE-VISHRANTWADI-ALANDI ROAD | Open | 11:00 AM | 8:00 PM |
| PUNE | BB-PUNE-AMANORA PARK-TOWN CENTER | Open | 11:00 AM | 8:00 PM |
| PURI | BB-PURI-GURU EMPIRES | Open | 11:00 AM | 5:00 PM |
| PURULIA | BB-PURULIA-CITY CENTRE MALL | Open | 11:00 AM | 5:00 PM |
| RAIGARH | BB-RAIGARH-GRAND MALL | Closed | N/A | N/A |
| RAIPUR | BB-RAIPUR-CITY CENTER MALL-VILLAGE MOWA | Closed | N/A | N/A |
| RAIPUR | BB-RAIPUR-MAGNETO-ED | Open | 12:00 PM | 5:00 PM |
| RAIPUR | BB-RAIPUR-DEVENDRA NAGAR | Open | 12:00 PM | 5:00 PM |
| RAJAHMUNDRY | BB-RAJAHMUNDRY-SYAMALAMBA TEMP | Open | 6:00 AM | 11:00 AM |
| RAJKOT | BB-RAJKOT-KALAWAD ROAD | Closed | N/A | N/A |
| RANCHI | BB-RANCHI-B G TOWER-KANKE ROAD | Closed | N/A | N/A |
| RANCHI | BB-RANCHI-NUCLEUS MALL-EAST JAIL ROAD | Closed | N/A | N/A |
| RANCHI | BB-RANCHI-J C TOWER | Open | 11:00 AM | 5:00 PM |
| ROURKELA | BB-ROURKELA-SHANTI TOWERS | Open | 11:00 AM | 5:00 PM |
| RUDRAPUR | BB-RUDRAPUR-METROPOLIS MALL | yes | 7:00 AM | 12:00 PM |
| SAMBALPUR | BB-SAMBALPUR-MOUZA SAMBALPUR TOWN | Open | 11:00 AM | 5:00 PM |
| SHIMOGA | BB-SHIMOGA-KSRTC BUS STAND | Open | 9:00 AM | 5:00 PM |
| SILCHAR | BB-SILCHAR-GOLDIGHI COMPLEX-DIST. CACHAR | Closed | N/A | N/A |
| SILIGURI | BB-SILIGURI-COSMOS MALL | Open | 11:00 AM | 5:00 PM |
| SILIGURI | BB-SILIGURI-SKY STAR | Open | 11:00 AM | 5:00 PM |
| SOLAPUR | BB-SOLAPUR-MANTRI CHANDAK ARCADE | Open | 11:00 AM | 8:00 PM |
| SONIPAT | BB-SONIPAT-TARANA ROAD | Closed | N/A | N/A |
| SRI GANGANAGAR | BB-RAJASTHAN- SRI GANGA NAGAR-CGR MALL | Closed | N/A | N/A |
| SURAT | BB-SURAT-KAMDHENU CORP | Open | 10:00 AM | 6:00 PM |
| TARAPORE | BB-TARAPORE-OSTWAL EMPIRE(EXP) | Open | 11:00 AM | 8:00 PM |
| THANE | BB-THANE-HIGH STREET MALL | Open | 11:00 AM | 7:00 PM |
| THANE | BB-THANE-BHAYANDER-MAXUS MALL | Open | 10:00 AM | 6:00 PM |
| THANE | BB-THANE-KALYAN-NETIVALI VILLA | Open | 10:00 AM | 6:00 PM |
| THANE | BB-VASAI-DATTANI VILLAGE | Open | 10:00 AM | 6:00 PM |
| THANE | BB-THANE-GHODBUNDER ROAD | Open | 10:00 AM | 6:00 PM |
| THANE | BB-THANE-VIVA CITY MALL | Open | 11:00 AM | 6:00 PM |
| THRISSUR | BB-THRISSUR-OPP ASHWINI HOSPIT | Open | 10:00 AM | 5:00 PM |
| TIRUNELVELI | BB-TIRUNELVELI-PERUVALPURAM-CORNER BLDNG | Closed | N/A | N/A |
| TIRUPATHI | BB-TIRUPATI-S T V NAGAR | Closed | N/A | N/A |
| TIRUPUR | BB-TIRUPUR-VALARMATHI BUS STAND | Closed | N/A | N/A |
| TRIVANDRUM | BB-TRIVANDRUM-M.G.ROAD | Open | 10:00 AM | 5:00 PM |
| TRIVANDRUM | BB-TRIVANDRUM-OLD KALPANA THEA | Open | 10:00 AM | 5:00 PM |
| UDAIPUR | BB-UDAIPUR-CELEBRATION MALL-ED | Open | 7:00 AM | 12:00 PM |
| UDAIPUR | BB-UDAIPUR-KUMBHA MARG | Open | 7:00 AM | 12:00 PM |
| UDUPI | BB-UDUPI-T.M.A. PAI HOSPITAL | Open | 8:00 AM | 11:00 AM |
| UJJAIN | BB-UJJAIN-DHANVATARI YOJANA | yes | 8:00 AM | 1:00 PM |
| VADODARA | BB-VADODARA-MANJALPUR-EVA MALL | Open | 10:00 AM | 6:00 PM |
| VADODARA | BB-VADODARA-SEVENSEAS MALL | Open | 10:00 AM | 6:00 PM |
| VADODARA | BB-VADODARA-INORBIT | Open | 10:00 AM | 6:00 PM |
| VAPI | BB-VAPI-CENTER BAZAAR | Closed | N/A | N/A |
| VARANASI | BB-VARANASI-IP GRAND | yes | 8:00 AM | 12:00 PM |
| VARANASI | BB-VARANASI-ORDELY MALL | yes | 8:00 AM | 12:00 PM |
| VIJAYAWADA | BB-VIJAYAWADA-GOPAL REDDY ROAD | Open | 6:00 AM | 11:00 AM |
| VIZAG | BB-VISAKHAPATNAM-DWARAKANAGAR | Open | 6:00 AM | 11:00 AM |
| YAMUNANAGAR | BB-YAMUNANAGAR-JAGADHARI-UNIVE | yes | 12:00 PM | 4:00 PM |
| ZIRAKPUR | BB-ZEERAKPUR | Closed | N/A | N/A |